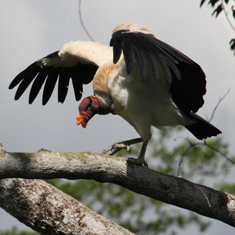 Join us for an unforgettable birding adventure in Belize! Belize has over 570 species of birds, a mix of Central American residents and North American migrants. Belize is home to some of Central Americas most sought after bird species; King Vulture (Sarcoramphus papa), Jabiru (Jabiru mycteria), Lovely contiga (Contiga amabilis), as well as 4 species of trogons, 3 species of toucans, 10 species of parrots and much much more…
Join us as we tour the country with professional ornithologists, wildlife biologists and bird watching guides in search of Belize's best avifauna. In addition to regular birdwatching tours, your will be staying in a operational field station where you will get to experience active wildlife research and monitoring. We provide interesting and educational lectures on bird biology and lifecycle, learn a variety of bird monitoring techniques, watch bird documentaries, discuss with ornithologists and learn in hand Belize resident birds while also catching common North American migrants.
All this combined with cultural and adventure activities, an experience of a lifetime!
Cost:
$1999 US/Person All-Inclusive (max. 11 guests)
All lodging and meals for 9 nights/10 days at three eco-lodges: Crooked Tree Lodge (Crooked Tree Wildlife Sanctuary), T.R.E.E.S Hosting Center (Maya Mountains), Pelican Beach Resort (Southwater Caye)
All in-country transportation including shuttle van, boat, and domestic flight*
All trip leader and guide fees*
Fees for professional ornithologist training in mist-netting and banding and use of all equipment
Guided activities including: cave tubing, hiking, Belize Zoo, snorkeling on the Barrier Reef
*The all-inclusive cost does not include your international flight to/from Belize, tips for guides and trip leaders (which are optional), or alcoholic beverages at your three lodging locations.
 Trip Dates (2015):
 1st Trip: January 9th through 18th
2nd Trip: February 14th through 22nd
3rd Trip: March 21st through 29th
For more information about the trip itinerary please click here
Custom-Built Trips:
If you are a bird club/nature club leader or an eco-tour leader that would like to run your own birding trip to Belize with the help of our travel support staff, we can design a custom trip for you and your group with all of your needs in mind. We work with the best guides and service providers Belize has to offer at the lowest rates in the best birding hot-spots in the country. For the same trip as we are running, we are offering a total reduction of $2200 US to trip leaders who will bring their own group which they will lead in-country for 11 guests with 1 leader's in-country fees subsidized. Overall trip cost is subject to change with change of lodging locations, number of days in Belize, and size of group.