Thank you for viewing our workshops and group activities. We are always hosting different workshops and activities at our different worldwide sites. Please visit our site regularly to see new upcoming events.
Bird Banding Workshops: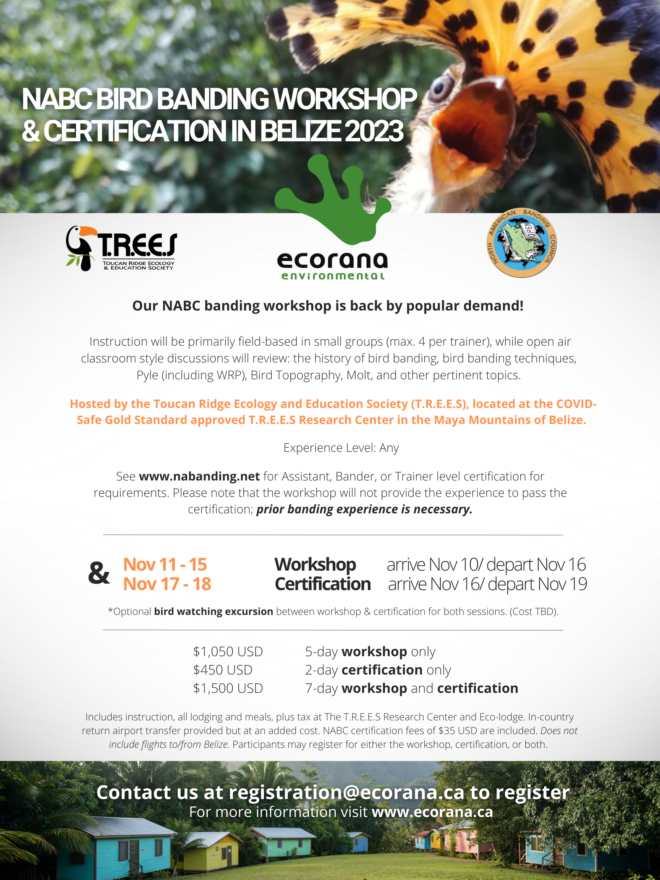 Learn bird banding techniques from certified trainers including practical skills such as banding, mist net use, species identification and bird extraction, along with valuable information in lectures regarding the proper ageing and sexing criteria for many species, molt strategy and Pyle.
Neotropical Bat Workshop:
Learn how to properly use mist-nets and how to remove and safely handle bats, learn characteristics for identifying Neotropical bats and proper processing skills, learn how to record and use bat echolocation calls as a survey technique including the basics of bat detectors and acoustic monitoring, and brush up on your bat photography skills. The instructors, Quentin Hays from WEST, Inc. (www.west-inc.com) and Donald Solick of Vesper Bat Detection Services (https://www.batacousticsurveys.com/) are bat biologists with over 20 years of experience in the field of bat ecology and conservation (http://www.west-inc.com/services/bat-research-and-monitoring/). Having worked extensively in Central America and currently composing a book on Central American bat species, they present the unique experience of lecture learning and hands on practical study in this 5 day intensive workshop. Please contact us at registration@ecorana.ca for more information or visit our eco-travel site at Ecorana Environmental.
To sign up for a workshop: Apply here!
If you have any special requests of a workshop you would like to have us offer or a workshop you would like to lead please contact us info@ecorana.ca